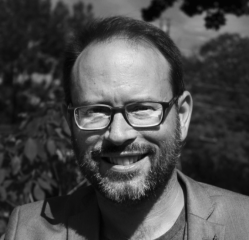 Why do we think of some music as sacred music and some music as secular? Is it merely a lyrical or a historical distinction, or is there something about the style and genre that makes certain songs feel "spiritual"? Is the music of the ancient Hebrews more or less sacred than that of a modern Catholic mass or an evangelical megachurch? We are likely to distinguish between these different eras and genres to help categorize them as sacred or not; however, we should be more willing to challenge this distinction.
In this episode, Dru Johnson interviews Delvyn Case, an accomplished composer, scholar, and performer, about the way Christians view music. As they break down the boundaries between secular and sacred music, they discuss why certain types of music feel more spiritual (such as Gospel or hymns) than others. They talk about bad worship music and how it influences our emotions to teach us thin, wobbly theology. They then discuss religious imagery, especially the figure of Christ, in popular music. Is Jesus more like a punk rocker, a hippie, or a communist? Music has the power to educate us and draw us nearer to God; however, it also has the power to mold our emotions and thoughts in sneaky, subconscious ways. If we learn to listen more closely, we can not only grow shrewder in our understanding of its power, but also discover its excellencies and faults.
Show notes:
0:00 "Sacred music" versus "secular music"
3:56 Gospel music as transcendent
9:30 The role of music in church
14:12 Bad worship music
19:09 Spiritual and educational music
22:35 Popular music using church motifs
28:18 The view of Jesus in pop music
34:33 How to critically engage music
Read Delvyn's discussion of Jesus in pop music.
Show notes by Micah Long.
Credits for the music used in TBM podcast can be found at: hebraicthought.org/credits.
Share
|
Download(

Loading

)